Unmatched service, every moment of the day!
Feel the magic of Lapland
My name is Brigitte Rademakers and I have been working at Global Aviation for six months now. As Charter Sales Manager, I am responsible for hiring the aircraft but also for making sure that our customers lack nothing and that their wishes are met. And I am going to expand on the latter. Clients also regularly ask if, besides the private jet, we can arrange everything locally for them like a luxury hotel, transfers, activities to arranging a luxury yacht. Together with our partner, I take care of this. Complete unburdening. Every month we give a nice example of such a wonderful trip.
A visit to the Northern Lights
You will travel to Lulea in the greatest possible comfort by private jet, and of course you choose which airport you wish to depart from. It's nice to be close to home. On board you will be treated to your favourite snack and drink and on arrival in Lulea your driver will be waiting for you.
Lapland itself is a winter wonderland destination with chances of seeing the Northern Lights, adventurous husky sleigh rides through the wilderness and crackling campfires, but staying at the Arctic Bath resort makes it even more special.
Staying in Winter Wonderland
Arctic Bath offers a true winter wonderland. In this architectural oasis on a partly frozen lake, you will imagine yourself in an otherworldly landscape. In reality, you are in the far north of Sweden just below the Arctic Circle. Natural, wooden materials were used in its construction and the history of the area plays an important role. Transport used to take place over the river. In summer, people sailed over it with boats and in winter it was a frozen 'fast' road. Of course, the Scandinavian sauna tradition has also been integrated with a wellness spa offering a wide choice of treatments. As there are no restaurants in the immediate area, you use all meals at the resort, which is more of a blessing than a constraint. The homemade dishes are prepared with local ingredients, to which the chef adds a modern twist, and served as pure works of art.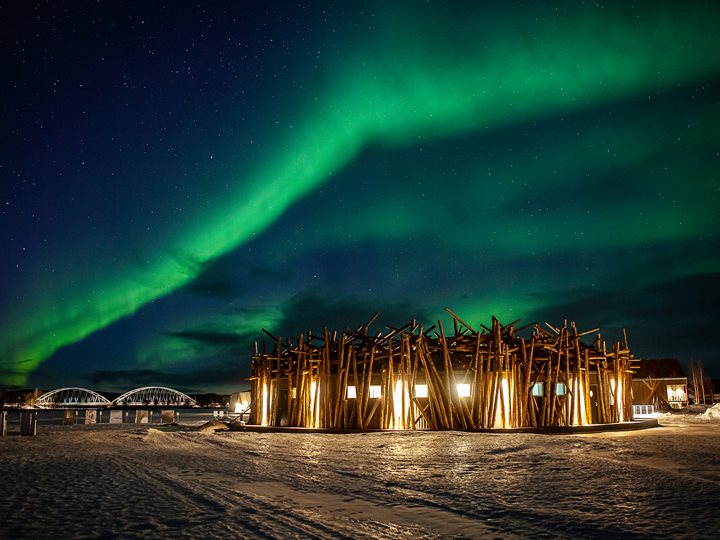 One of the most magical moments you can experience is seeing the Northern Lights. A professional photographer will teach you the skills needed to capture the dancing light forever. Apart from the chance to observe the Northern Lights and husky rides, going out on a snowmobile is also a special experience. In the process, you may encounter local wildlife in the otherwise almost deserted white landscape. If you are interested in the local culture, we are happy to arrange a visit to the Sami. You will be warmly welcomed to the lávvu (tent house) to enjoy a traditional lunch prepared over the fireplace. Meanwhile, if you like, you can help feed the reindeer and listen to the Sami's stories and extensive knowledge of nature. They will be happy to teach you more about edible and healthy arctic plants and take you on a short walk through the forest for this purpose. After this walk, you can warm up by the fire in the kitchen with homemade herbal tea and several delicacies.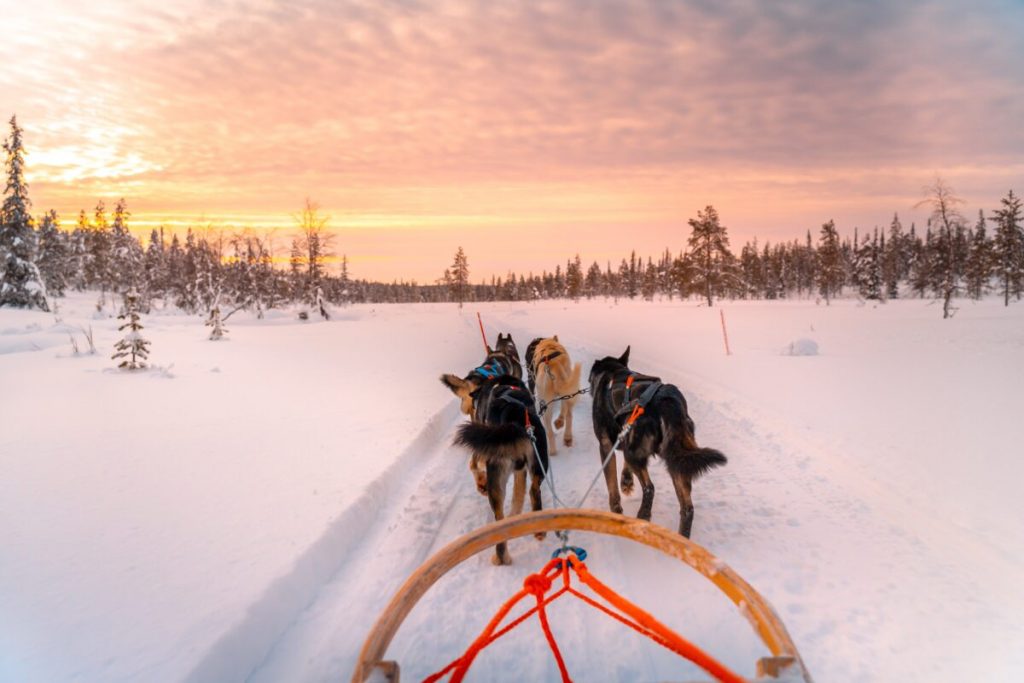 Ask for the available options
5 days Including 4 nights stay at Arctic Bath hotel on full board basis, Husky tour, meeting the Samis, photography tour Aurora Borealis, trip by snowmobile
Price indication € 57,500 at 4 persons (including flight by private jet (small jet) Netherlands – Lulea v.v.)
You can customise your stay in Lapland. Both the duration of the trip, type of private jet and the desired activities and accommodation. We will gladly tailor these to your wishes!
Unmatched service, every moment of the day!
All airlines, worldwide, reachable with one phone number